Brian and David Zahn
Stoddard, WI
1933 Ford coupe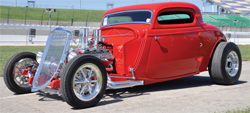 While some modifications on today's crop of hot rods are done for pure shock value, such as hiding the radiator in the trunk, there was a time when they were built with form following function. Competition in particular necessitated modifications in the pursuit of higher speeds and less weight. The late 1950s and early 1960s saw hot rods morph from daily drivers, to street & strip machines, to competition-only cars towed to the tracks.
Chopping the top to cut down on wind resistance and the removal of anything not needed to get through staging and across the finish line aided in these goals. Many cars did away with the bulky cooling systems altogether.
Long time hot rodders Brian and his father David Zahn are fans of those cars, and are diehard swapmeet scroungers who know their way around a shop. Previous projects include Brian's '48 Ford and Dad's flat head powered '33 sedan with a S.C.o.T blower. They collected parts for this particular '33 for fifteen years before putting the puzzle together. The car's clean and simple appearance is the result of hours of thoughtful planning and creatively engineered solutions.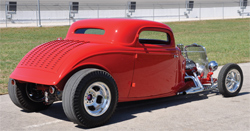 The body was found in a swap meet and been raced as a stock car, complete with a water pipe roll cage, but the sheetmetal was all there and in surprisingly good shape. That's not to say that their Uncle Jim had it easy straightening out the wrinkles and chopping the top almost five inches. Uncle Jim also handled the heavy welding on the chassis after Brian tacked together the ASC rails and homebuilt crossmembers. They stretched the wheelbase in anticipation of the forthcoming engine seven inches. They wanted it to be uncluttered and serve as a focal point.
The flathead also came from the swaps, it's a beefier 59L block that was fitted with a Scat stroker kit and Offenhauser heads to now take up 304ci of volume. David deburred the block and built it himself with his heart set on using the Hilborn injection he had scored. They went back and forth before deciding they could have good looks AND reliability if they converted it to electronic injection with a custom manifold. Brian says he spent many hours on the phone with the guys at Kinsler to get it dialed in and is thankful for their help. "The guy on the phone had way more patience than I did," says Brian, "but he was extremely nice and helpful. I can't say enough about how great those guys are."
The flathead was mounted to the rails with an engine plate and linked to a Mustang T5 five-speed. To keep the competition look, the Zahns discreetly routed the coolant hoses rearward via black hoses that run through portions of the crossmembers to a radiator with electric fans in the louvered trunk. Brian says they have driven it quite a bit and it sits right on the thermostat temperature at all times and hasn't run hot.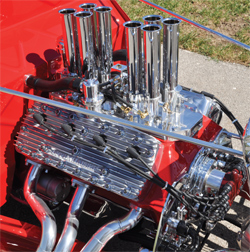 An aluminum fuel tank was mounted in front of the engine and a '33 grille shell decorates the front, supported with chromed struts that run to the firewall. The front suspension uses a 5" dropped Magnum axle with a Posies spring and spilt and drilled Ford wishbones.
The front wheels are real magnesium Americans. Brian put his tool and die maker experience to use and machined holes into the bearing area before fabricating an adapter to mount the rotors, now stopped with Airheart calipers.
Also real and magnesium are the vintage 16" Halibrands out back, mounted on Firestone slicks. The Zahns knew they wanted to run their Winters Sprint quickchange but were concerned about keeping things clean. "When looking at old drag cars," says Brian, "they didn't have bulky springs hanging down, and many were mounted right to the frame."
That was not an option for a street car. Brian's inspiration came while looking at a cantilevered setup on an Eleanore Mustang. "We can do that," he thought. So they created their own cantilever suspension that uses pivoting rockers and coil springs mounted in front of the axle.
The interior was also kept clean of gimmicks and unnecessary additions. The dash was filled and re-fitted with Stewart Warner gauges in a center-mounted panel. A column-mounted sweep tach was added behind the three-spoke steering wheel, and a new shifter was fabricated. Speed Trim in Trempealeau, WI handled the distressed leather upholstery, crafting a driveshaft tunnel pad and trimming the Speedway bomber seats.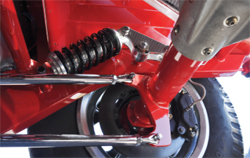 Brian says he and his father were each pulling for either orange or red for the color and they ended up driving around car lots to find a nice compromise. They settled on the high impact Inferno Red of an '09 Dodge Challenger and sprayed it inside and out. It is worth noting that the underside of the coupe is just as finished as the top.
After collecting parts for 15 years and building for another two and a half, the Zahn's competition-style coupe stops people in their tracks. The rear-mounted cooling system isn't a gimmick, but a discreet way for them to enjoy the look that they were going for. In a way, their hot rod has come full circle of engineering function to follow their form.
Tech Specs:
Body: 1933 Ford three-window coupe, 4 3/4" chop, channeled, 2009 Dodge Inferno Red paint.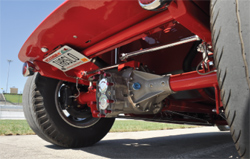 Chassis: ASC rails, owner-made crossmembers, wheelbase extended 7", Magnum 5" dropped axle, Posies front spring, split and drilled wishbones, Winter's Sprint quickchange, cantilever coil spring suspension by owner, Airheart front disc brakes, Corvette master cylinder, Wilwood rear brakes.
Power: Owner-built 59L Ford flathead stroked to 304ci, mechanical Hilborn injection converted to EFI, Offenhauser 425 heads, custom sprint-car style headers, Mustang T-5 5-speed, Weber aluminum flywheel.
Wheels and Tires: Real magnesium American Racing 12-spokes, drilled for disc brake rotors, on 135SR15 radials. Magnesium 16" Halibrand Speedway wheels on Firestone Dragster cheater slicks.
Interior
: Modified stock dash with center gauge panel housing Stewart Warner gauges, Speedway aluminum bomber seats, 3-spoke steering wheel, column-mounted sweep tach, distressed leather upholstery by Speed Trim.